This store requires javascript to be enabled for some features to work correctly.
Running on Blooms is a flower & gift shop based on two vintage white 1960s Volkswagens, Betti and Bonny. This isn't your traditional flower shop — we specialize in bespoke creations and unique blooms you won't find anywhere else.
It all started with a trip to Tennessee. Our family of five visited the area for a wedding shower, and stopped by a local flower truck while we were out shopping. Watching our three kids choose flowers for their bouquets was such a fun experience, and we found ourselves watching the video we took of them on repeat, long after we had left Nashville.

It just so happened that I was doing freelance design work for a florist friend-of-a-friend that same summer, so I was already heavily researching the floral industry. After the Nashville trip, I tried to persuade the florist to buy a flower truck. I found a red Volkswagen truck for sale locally and tried to convince her to buy it, just dying to see it all come to life in our community. She wasn't interested in the VW truck, but I could not stop thinking about it… and the rest is history.

Since we joined the floral industry secondary to other careers, we definitely do things differently than a traditional floral shop. We're a completely foam-free flower shop, which means each of our designs have clever mechanics hidden inside to deliver water to the flowers. As a new flower shop, it's important for us to do things right from the start. Coming up with a sneaky base for the water is now half the fun when we're designing!
We're here to learn, have fun, and take the stress out of buying flowers. Flowers are fun! This is a floral experience you'll look forward to doing again and again.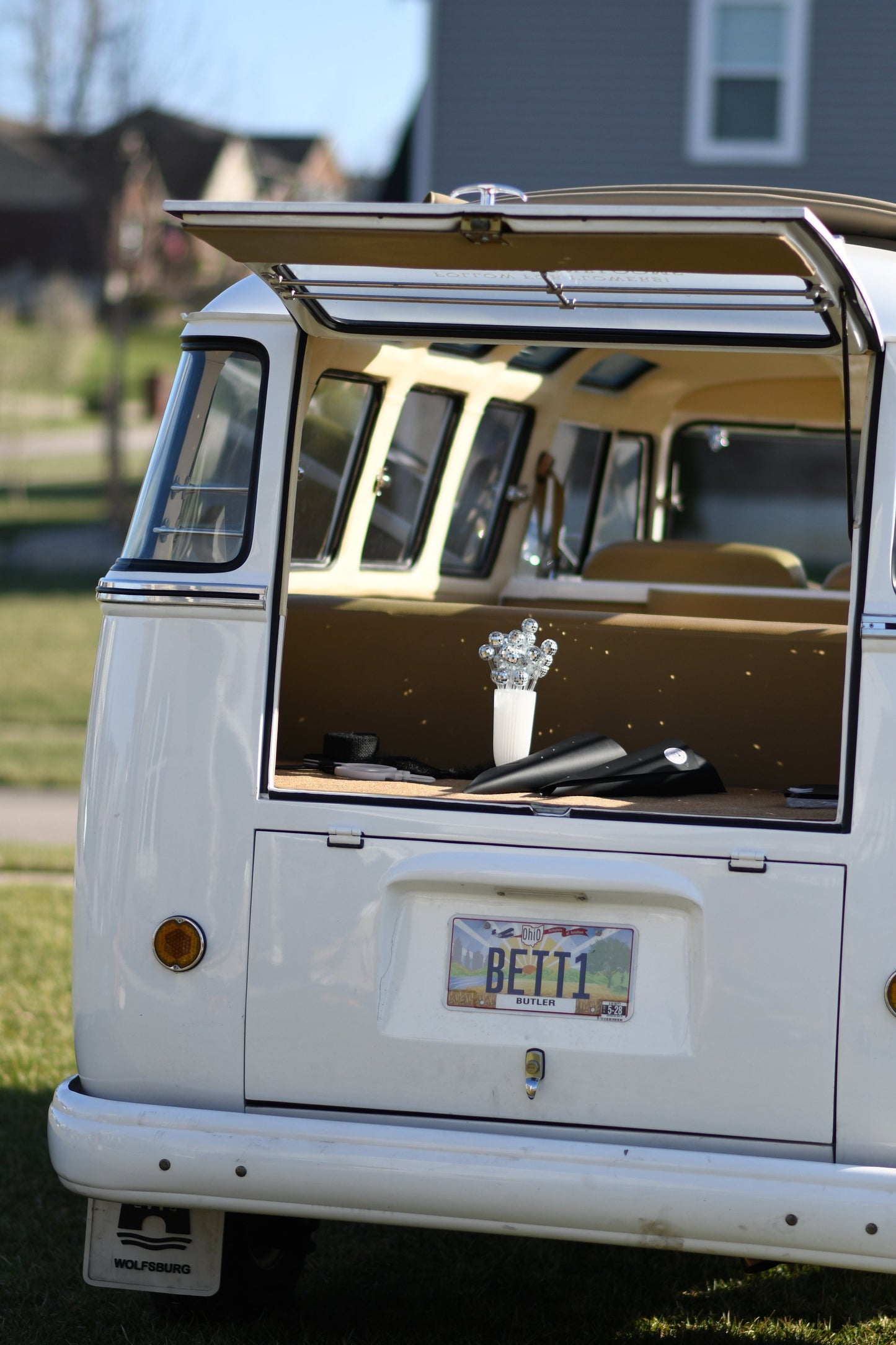 MEET BETTI
Betti is a 1960*ish Volkswagen Type 2 (bus).
We started with a Volkswagen single cab truck, but our whole family couldn't ride at once. The only reasonable solution? Betti White, the split window VW bus.
She came to us all the way from Denver, and after a few sea-level mechanical adjustments, she was ready to roll! We like that she's a fresh take on the traditional "flower truck," being that she's, well, a bus. Betti is the only flower bus we know!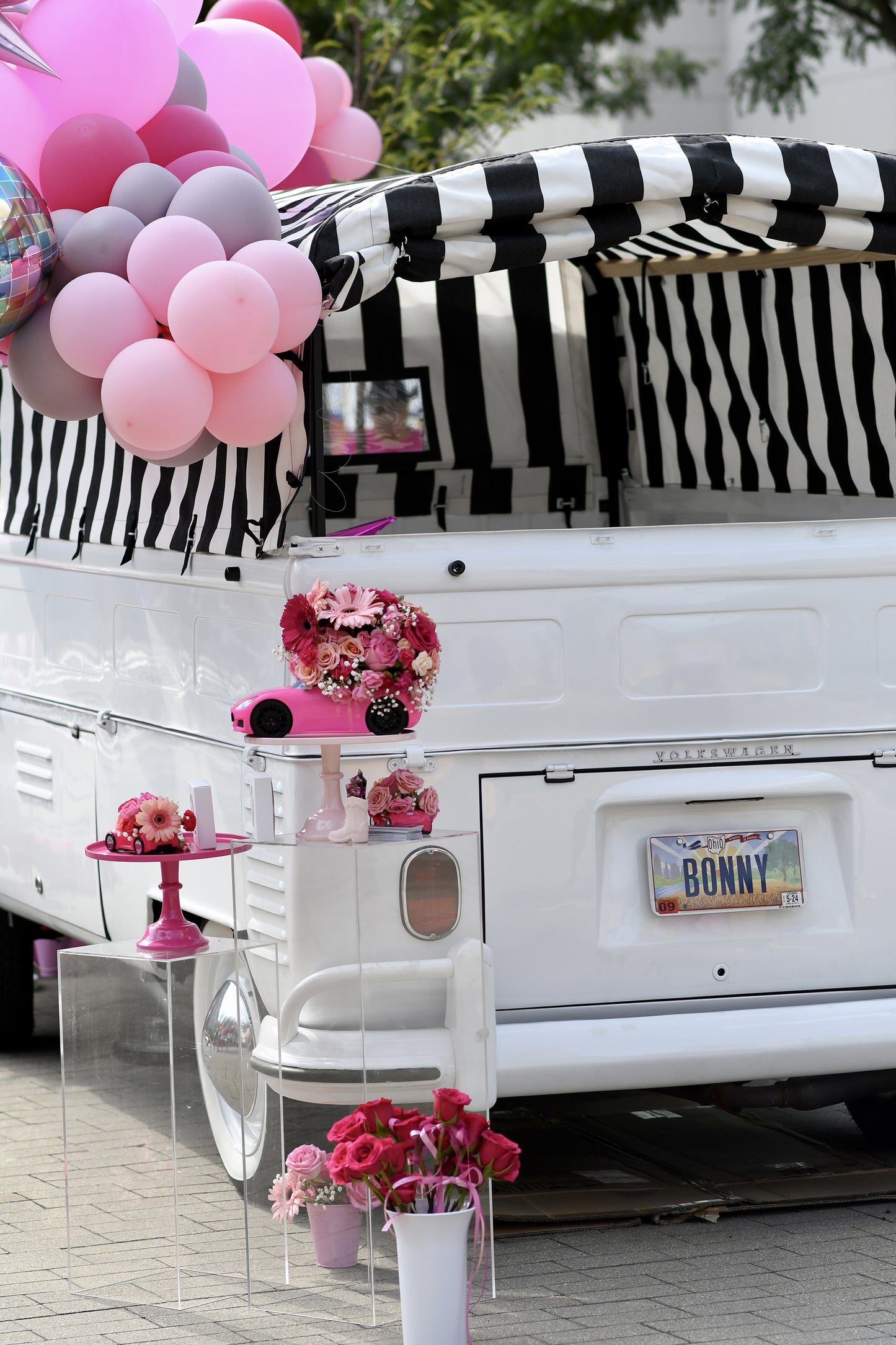 MEET BONNY
Bonny is a 1963 Volkswagen Type 1 Single Cab (truck).
We found Bonny locally and had one memorable ride home! Garret did a ton of mechanical work to get her running smoothly. We had her painted white to match Betti, and added a black and white stripe canopy to complete our flower truck. You'll find Bonny out at Liberty Center on nice weather days!
Running on Blooms is a play on the phrase "running on fumes," when your engine is almost out of fuel. Old Volkswagens are notorious for having busted fuel gauges, and Betti and Bonny are no exception.

** Garret's infamous story about running out of gas on the side of the road **
The idea for a white VW bus named "Betty White" came to us first, but we didn't want to come across any copyright issues. Since we already have (extra a) Rachael, (one t) Garret, and Bonny (with a y), in our family, spelling Betti (with an i) seemed like the obvious choice.

We get "you should have named him Clyde!" a lot, and yes, "Bonny and Clyde" is totally a fun option too, but we just knew she was meant to be Betti from the start. Betti, Betti White.

Fun fact about Betti: She has a LOT more horsepower than Bonny. Like, a lot more.
Garret and I lived in Northern California throughout our twenties. One of our absolute favorite places is Santa Cruz, where we'd take our dogs to the dog beach most summer weekends. When we first got our VW truck, I started looking up California beach names for naming ideas. I was searching the map around Santa Cruz when I found Bonny Doon Beach, and I knew the name was just as quirky — I mean perfect — as our truck!

Fun fact about Bonny: She came to us red (currently being painted white) and we learned she originally came from the factory in Pearl White back in 1963.